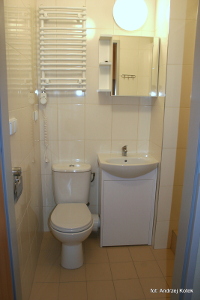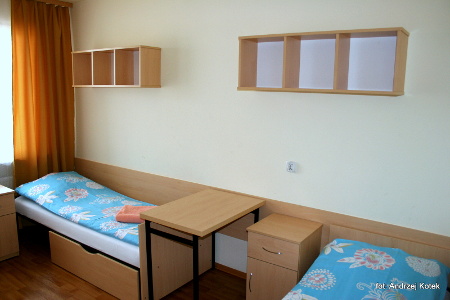 From 1 July to 22 September 2019 Summer Hostel AWF has about 1000 places. We offer:
standard twin rooms
twin rooms for one person
twin rooms with an extra bed for a child (up to 7 years old)
rooms for the disabled
family rooms
Each room is fitted with:
en-suite bathroom (a toilet, a washbasin, a shower)
furniture (closet, beds, chairs, table, bedside tables etc.)
bed linen (quilts, pillow) and towels
its own balcony
Internet socket (guests need to have their own internet cable – RJ45 socket), the access is provided for free
The floor layout includes 16 standard twin rooms which helps to accommodate bigger groups. On each floor there is a kitchenette. Family rooms and rooms for the disabled are equipped with their own kitchenette.
There is a CCTV camera at the premises, door – keeper service and 24 hour reception desk. There is a car park next to the hostel.
We offer special discounts for individual guests, students and organised groups. Our hostel accepts pets. The neighbourhood of the hostel offers such facilities as shopping centres (LIDL, Plaza centre, shopping centre M1), ATM, Aviation Park, Tauron Arena and EXPO.
Details

Last Updated: 10 May 2019

10 May 2019